Meet the Smart Biosystem Laboratory Research Group (AGR-278)
Professor Antonio Miguel Pérez Romero
University of Seville
Professor of the Department of Graphic Engineering, within the area of Graphic Expression in Engineering at ETSIA. His lines of research focus on three fronts: 3D surveys, using laser and photogrammetry-SFM techniques. Accuracy of GPS-GNSS systems. Development of applications for teaching innovation in Topography and Geomatics.
Orly Enrique Apolo Apolo
PhD Student & Researcher
PhD student at School of Agricultural Engineering (University of Seville). Strong research background with expertise in using artificial intelligence in precision farming. Currently, working in developing models for yield estimation in orchards trees. Also, he has experience in spectral sensors, infrared thermometers, LiDAR sensors among others.
Pedro Castro Valdecantos
Postdoctoral Researcher
Graduated in Agricultural Engineering specializing in Agricultural Operations, Own Master's Degree in Plant Health and Official Master's Degree in Agricultural Engineering from the University of Seville. PhD from Lancaster University (United Kingdom) in collaboration with CUHK (Hong Kong). Focused on the study of the physiology and biochemistry of crops against water stress. Currently working on determining the severity and performance impact of wheat rust with LiDAR sensors and Hyperspectral cameras.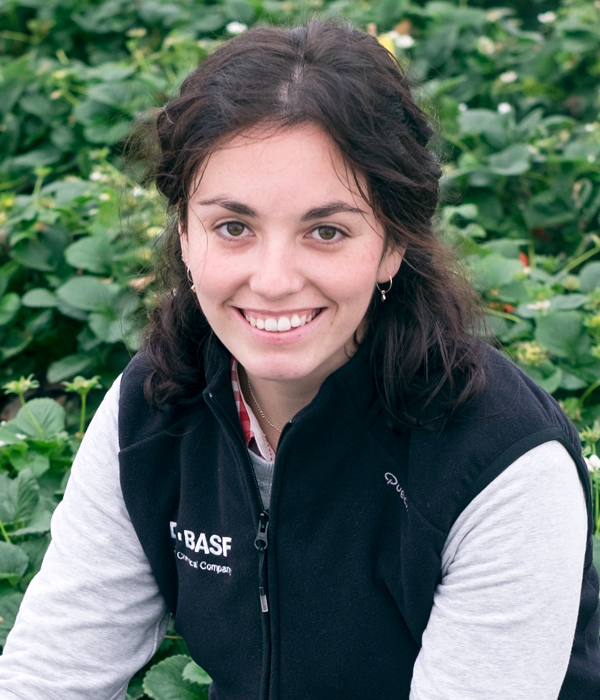 Isabel Avilés-García
PhD Student
Graduated as Agricultural Engineer by the University of Seville. Currently working at BASF, a multinational chemical company, in the research of future fungicides for farmers as Fungicides Research Agronomist Assistant.
Now she wants to enlarge her knowledge in the field of digitalization, by a PhD between BASF, Tecnalia and the University of Seville about the development of an algorithm for the identification and quantification of cereal diseases.
Manuela Díaz Hidalgo
PhD Student and Project Manager
PhD student at School of Agriculture Engineering (University of Seville) and Project Manager focused on agricultural innovation.
Several years of experience within the agrofood sector being involved in many projects at Spanish, European and International level. Strong background on Product Development, Regulatory Affairs, Food Policy, Environmental Legislation and Sustainability
Cristina Cantais Sánchez
Assistant Technician
Bachelor of Law and Master of Quality Management, with experience in National and International projects management, as well as wide experience in management of training activities.
Technical and Management support to R&D projects, also developing every kind of support and back office activities.
Laura Ríos Pena
Postdoctoral Researcher
PhD in statistics and operations research and forestry engineer with commitment, initiative and enthusiasm.
She has led and developed European and national research projects in the field of engineering and environment, as well as in data science, fraud detection and advanced technology. She considers herself a data, statistics and environmental enthusiast.
Andrea Ojembarrena Magister
Junior Researcher
Recently graduated with a MSc in Viticulture and Enology with the master thesis "Applying precision and technology in the wine-making process" and MSc in International Hospitality, Events and Tourism Management. Currently pursuing to broaden her knowledge on how to apply technology for improving results, contributing to sustainability and raising awareness in the food chain process and how this could affect consumers.
Juan Manuel López Correa
Junior Researcher
Researcher  in computer visión applied to agriculture. He has worked in prestigious artificial intelligence laboratories:  "Dharma Laboratory"  in  Argentina,  "Prisme Laboratory " in France ,  "Automatic and Robotic Center CSIC-Madrid in Spain" and now in Smart Biosystem Laboratory Research Group.
International Guest Researchers
Mino Sportelli
PhD student
Graduated in Agricultural science at the University of Bari with a master in Urban green areas and landscape design and management at the University of Pisa.
Strong research background in turfgrasses sustainable management developed during my cooperation at the New Mexico State University, Las Cruces, New Mexico (USA). Currently attending the PhD program at the University of Pisa focused on innovative and non-chemical weed control.
Simon Appeltans
PhD student
Graduated as a bio-engineer, focusing on agriculture and phytopathology at Ghent University, Belgium. 
Experienced in hyperspectral and multispectral imaging for disease detection using machine learning techniques in python and matlab programming. Currently working on a PhD at Ghent University and collaborating with ETSIA Sevilla on precision fungicide applications using hyperspectral proximal and remote sensing for a variety of economically important crops.